How can I help the C Three Foundation?
Many of you have expressed interest in helping the C Three Foundation with your time and talents in addition to your funds. We are grateful for your interest.
The mission of C Three Foundation is to save the lives of alcoholics worldwide. We aim to educate doctors, alcoholics and family and friends of alcohol dependent people about the most successful long term treatment for alcoholism; The Sinclair Method. If you have skills you are willing to donate to help us further the C Three Foundation mission, please, let us know by messaging the C Three Foundation or the One Little Pill Facebook page.
Follow and Share
Social Media Ambassadors – There's a lot of folks on Facebook, but we also know that many of you enjoy Twitter and Google+ as well. We need help spreading the word about the C Three Foundation and our documentary One Little Pill. Please share our posts, our fundraising updates, our website…share it all! We want to reach as many people as we can to raise awareness about The Sinclair Method.
Social Media Content – Are you good with graphic design? Send us a related meme. Do you have a short success story we can share? Let us know!
Distribute Claudia Christian's TEDx London Business School talk with this QR-coded postcard: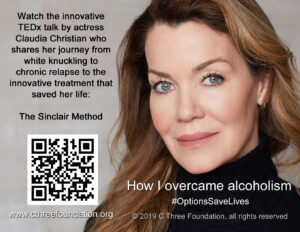 Fundraisers
Event -  Don't have a book club? Still want a virtual visit from Claudia at a fundraising event?  Let's talk. Drop us a note at cthreefoundation.org/contact
Crowdrise - Do you have a fun, unique idea to help the C Three Foundation raise funds? We're on crowdrise.com! Just go to our page, https://www.crowdrise.com/cthreefoundation, set yourself up an account and start your own fundraiser on our behalf! All of the donations are tax deductible in the United States.
Auctions
Auctions are a great way to raise money, but there are certain logistics that can become cumbersome. So we respectfully ask that you adhere to the following guidelines when auctioning items on behalf of the C Three Foundation:
While we appreciate individual auctions with the intent to donate proceeds to the C Three Foundation, there are many laws and restrictions in place that regulate how fundraising activities are to be conducted. In order to use our name in your eBay auction, please connect with our official eBay charity page.
Please do not create or ship items to the C Three Foundation office or to Claudia's fan mail address unless specifically requested to. We appreciate item donations, but we do not have the storage areas necessary to store items.
Please understand that we are not able to accept item donations for auction a) unless the C Three Foundation is to receive 100% of the proceeds (absolutely NO revenue sharing), and b) that for any reason we deem inappropriate or impractical for auction.